Having finished the story of H.H. Mansbach and his family, I want to return to his two older siblings, Abraham and Henrietta.  As I wrote earlier, Abraham and Henrietta married siblings: Eliza and Gabriel Gump.  Abraham died on November 18, 1887, leaving Eliza with two children, Mollie, who was 21, and Jerome, who was nine.  Then Henrietta died on March 15, 1893, survived by her husband Gabriel and their four sons, Abraham, Louis, Harry, and Joseph. What happened to these surviving spouses and their children?  This post will be about Abraham Mansbach's family, his wife Eliza, and children Mollie and Jerome.
According to the 1900 census, Mollie Mansbach, Abraham and Eliza's daughter, married Herman Kerngood in 1886 when she was twenty years old.  Herman was born in Warburg, Germany, in 1859 and had immigrated to the US in the 1870s.  By 1880 he was living in Baltimore with his uncle, William Kerngood, working as a clerk in his uncle's dry goods business. But Herman did not remain a clerk for long. He established the Alma Button Company (later Alma Manufacturing) in 1887, the same year he married Mollie Mansbach.
It grew to be a very successful business, according to this site about Baltimore's history:
Founded in 1887 by 28-year-old German immigrant Herman Kerngood, the Alma Manufacturing Company manufactured a wide variety of metal clothing trimmings including buckles, clasps, fasteners and steel buttons. Before Kerngood started his operation, conveniently located alongside the Baltimore & Ohio railroad tracks, textile companies in the United States had imported all their steel buttons from Germany. The firm produced around 35,000 specialized products (the "Superior Pantaloon Button" and "Perfect Trousers' Hook" to name just a few) and could be found attached to hats, umbrellas, shoes and, of course, clothing produced at factories around the country.
Here is the drawing for one of the many patents obtained by Herman Kerngood for products and machinery used in his business, this one for studs for clasps awarded in 1896: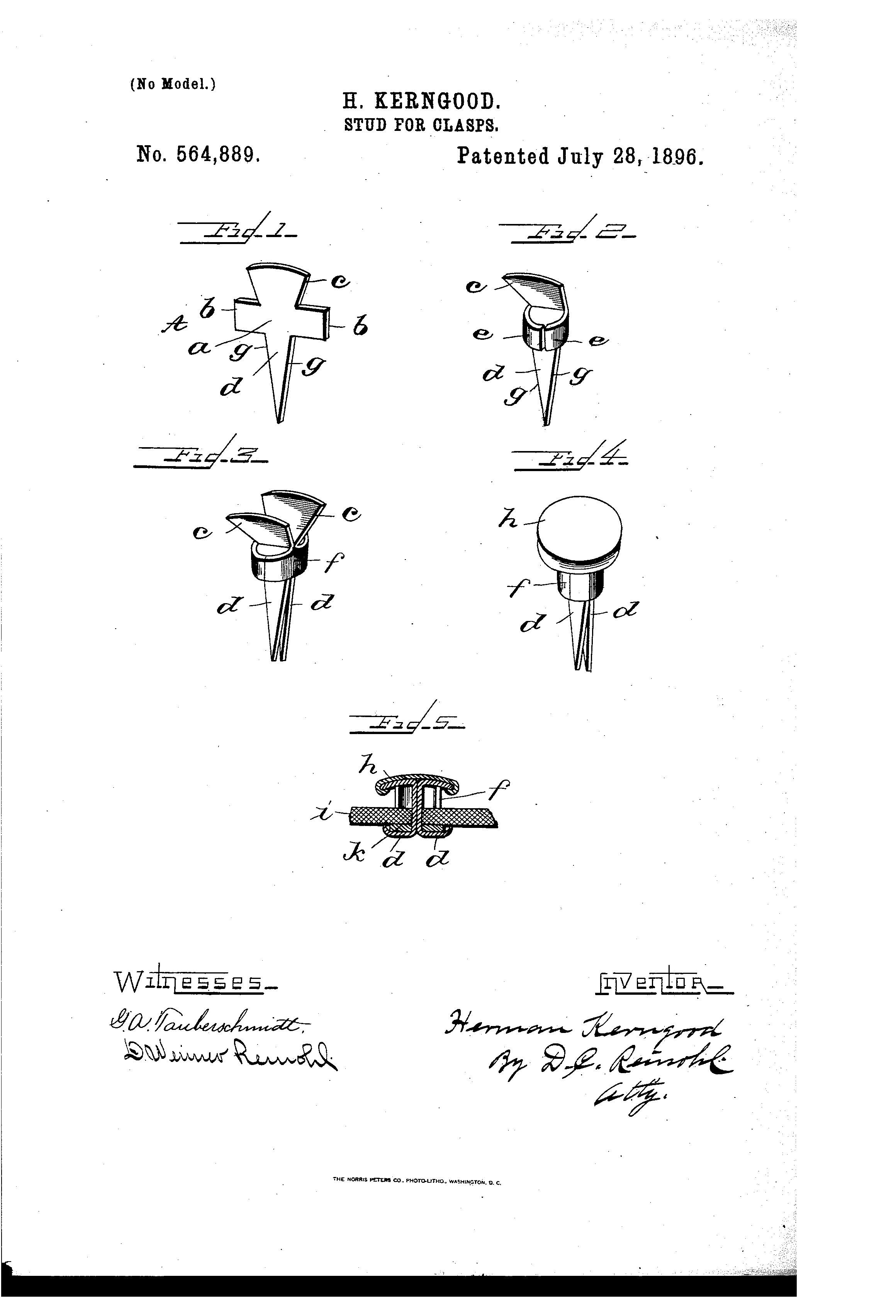 Another site describes more of Herman Kerngood's entrepreneurial success:
At the beginning of the 20th century, Herman Kerngood formed a partnership with Moses Hecht, Benjamin F. Hecht, Nathan I. Hecht, S.B. Sonneborn, and Isaac Blum, to establish the American Steel Buckle Company, Inc. with an authorized capital stock of $1000.  The Hechts were of the same family that started Hecht Brothers and the Hecht Company chain of department stores in the Baltimore-Washington region, starting with a used furniture store founded by Samuel Hecht, in 1857.
In 1900, Mollie and Herman Kerngood were living with their two sons, Allen (11) and Morton (10) as well as Mollie's mother Eliza (who for some reason is identified as Herman's aunt on the census report).
I am not sure where Mollie's brother Jerome was at the time of the 1900 census.  Although he is listed in the 1899 Baltimore directory as residing at the same address as his mother and his sister, 2007 McCulloh Street, he does not appear with them on the 1900 census, and he is missing from the Baltimore directory for the years between 1899 and 1906.  The only references I could find as to his whereabouts were two short news clippings from 1900:
On March 25, 1900, he was identified in the Philadelphia Inquirer as being from Baltimore and visiting his first cousin Bertie (Bertha) Mansbach in Cumberland, Maryland.  Bertha was the daughter of H.H. Mansbach, Jerome's uncle. This is more evidence that despite the fact that H.H. and his brother Abraham served on opposite sides of the Civil War, there was some continuing family relationship afterwards.
The second news clipping about Jerome, from the Baltimore Sun and dated just six days later on March 31, 1900, states that Jerome was formerly from Baltimore and was visiting the city:
So where was Jerome living at that time? I don't know, but as noted above, he does reappear in the Baltimore city directory in 1906, living at the same address where his sister and her family and his mother were living in 1900, McCulloh Street. In 1907, he is listed as a clerk living at the Hotel Forbes in Baltimore. But he is not listed in the Baltimore directory after 1907 for several years until he reappears in the 1914 edition.  Nor can I find him on the 1910 census.
I also had no luck locating his mother Eliza (Gump) Mansbach on the 1910 census nor in any directory or other record for that year.  The only members of the Abraham Mansbach family I could find on the 1910 census were Mollie (Mansbach) and Herman Kerngood and their two sons. Mollie and Herman were still living in Baltimore with their younger son Morton, who was now twenty. Both Herman and Morton were working in Alma Manufacturing, Morton as a salesman.  Their older son Allen, 21, was living with his uncle, Julius Kerngood, in New York City and working as a "commercial traveller" selling buttons, presumably for his father's company.
Jerome Mansbach reappears in the 1914 Baltimore directory, listing himself as a commercial traveler, and has the same listing in 1915.  I've no idea where Jerome was between 1907 and 1914, but my best guess is that as a traveling salesman, he was on the road so much that he somehow was missed in the 1910 census and wasn't settled enough to list himself in a city directory for those years.
But on July 15, 1915, Jerome did finally settle down.  He married Ida Herzog, daughter of Charles and Josephine (Schwartz) Herzog of Govans, Maryland, a neighborhood in Baltimore.
Ida's father Charles was a Baltimore native, and her mother was born in New Jersey. Charles, the son of a beer brewer, was a lawyer, and Ida's maternal grandfather, Andrew Schwartz, was a Methodist minister.  I can't help but wonder how Ida's grandfather felt about her marrying the son of a Jewish immigrant.
What really caught my eye in the marriage announcement, however, was the statement that Ida was the sister of "Buck" Herzog, "manager of the Cincinnati team." I'd never heard of him before, but being a big baseball fan, I was curious as to whether the "Cincinnati team" meant the Cincinnati Reds.  Sure enough, it did, and it turns out that Buck Herzog was not only a manager, but a former Major League player who had played in the 1912 World Series and broken the record for most hits in a World Series, a record that stood for over fifty years.
Gabriel Schechter wrote a biography of Buck Herzog for the Society of American Baseball Research, from which this excerpt is taken:
Buck Herzog was one of the most versatile infielders in the history of the major leagues; his 1,493 games were divided almost equally among second base, shortstop, and third base. His motto, "When you get 'em down, choke 'em," earned him the nickname "Choke 'Em Charley." John McGraw signed Herzog for the New York Giants in 1908, beginning a baseball love-hate relationship exceeded perhaps only by George Steinbrenner and Billy Martin. No player better exemplified McGraw's ferocious fighting spirit than the 5'11", 160 lb. Herzog, yet the two generally couldn't stand each other. Over the course of a decade the Giants traded away the aggressive infielder three times and brought him back twice, both times experiencing immediate success when he re-entered the fold. "I hate his guts," McGraw once said about Herzog, "but I want him on my club."
I realize that the connection is quite attenuated, but I still got a kick out of the fact that a distant cousin of mine married the sister of a genuine American baseball legend!